WINTER SUNSHINE
This is the title of our new Exhibition
This exhibition will add some sunshine to this cold winter!
The Hawkesbury, as we know it, is a diverse and colourful place and the Ferry Artists Gallery is a fabulous venue on our river which showcases our wonderful local talent.
So come and see! 4pm to 6pm at the Gallery. There is also a dinner following the event at Busby's
We are also very pleased to have Mellissa Read-Devine, a very talented local artist, offering one of her excellent works as the prize in a raffle during this exhibition!
New Exhibition - Winter Sunshine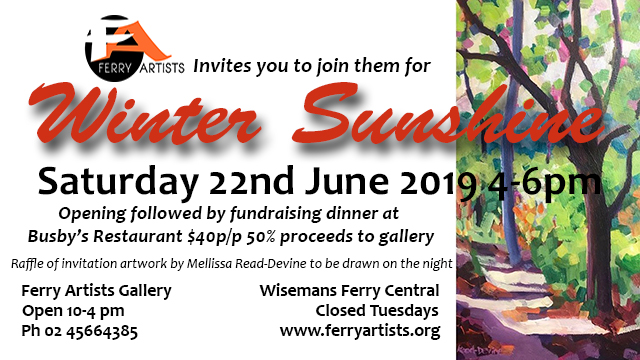 Fundraiser Dinner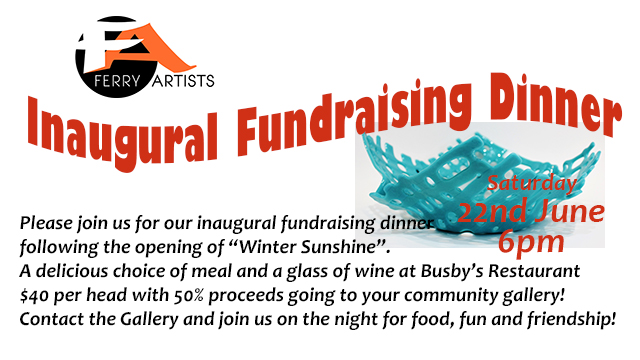 Facebook
Feel free to enter a comment below:
CONTACT US HERE
We'd love your feedback!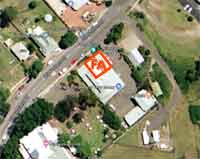 Shops 1 & 2, 5557 Old Northern Road, Wisemans Ferry NSW 2775
Phone: 0245664385
Email: info@ferryartists.org

Swing by for a cup of , or leave us a note:
Contact us online here. The online form requires flash and may not appear on some mobile devices or devices without flash installed. If the form does not appear, simply press the button below and send us an email.