Local Colour
Our new exhibition is titled Local Colour.
This exhibition gives our talented artists the opportunity to explore what our locality means to them and the vehicle to creatively challenge how colour reflects our ideas of what is important to us in our community.
The Hawkesbury, as we know it, is a diverse and colourful place and the Ferry Artists Gallery is a fabulous venue on our river which showcases our wonderful local talent.
So come and see what our artists can make of it!
We are also very please to have Sherri McMahon, our Australia Day 2019 Local Hero, opening this exhibition for us!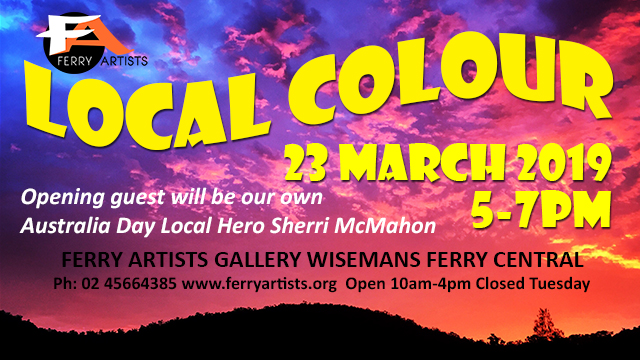 Exhibition time is Saturday the 23rd of March 2019 from 5pm to 7pm.
WISEMANS FERRY CENTRAL
Shops 1 &2 5557 Old Northern Road Wisemans Ferry
P: (02) 45664385 Open 10am-4pm Thurs/Fri/Sat/Sun/Mon
Or email us here

our facebook page